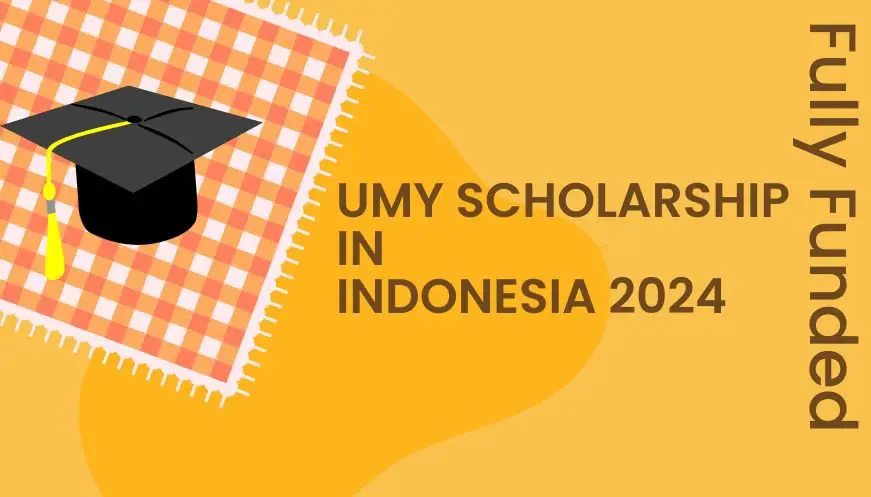 The Universitas Muhammadiyah Yogyakarta (UMY) has long been a beacon of educational distinction in Indonesia, captivating the attention of aspiring scholars from around the world. At the heart of its commitment to academic brilliance lies the UMY Scholarship program, an initiative designed to transform dreams into reality for promising individuals seeking to excel in their chosen fields. As a testament to UMY's dedication to fostering global talent and intellectual growth, the UMY Scholarship stands as a gateway to exceptional educational experiences.
- You can also see at American University Online Masters Scholarship 2024
The UMY Scholarship program represents an embodiment of UMY's core values, focusing on nurturing the potential of ambitious minds to become the leaders and innovators of tomorrow. By providing financial support and a platform for academic exploration, the scholarship program empowers students to unleash their full potential and contribute meaningfully to society. This endeavor is a reflection of UMY's unwavering belief in the power of education as a catalyst for change and progress.

In a world that celebrates diversity, the UMY Scholarship program stands as a testament to the institution's commitment to inclusivity and excellence. Regardless of cultural background or geographical location, the program opens doors to quality education for individuals with exceptional academic records and a passion for learning. By fostering a diverse community of scholars, UMY creates an environment where varied perspectives converge, enriching the academic discourse and broadening the horizons of all involved.
- You can also see at MIPLC Germany Scholarships 2024-2025
The UMY Scholarship program extends far beyond financial aid, it offers recipients a transformative journey that spans academic, cultural, and personal dimensions. Scholars who are selected to be part of this prestigious program gain access to a world-class education while immersing themselves in the vibrant Indonesian culture. This unique blend of academic rigor and cross-cultural experiences equips students with a holistic perspective, enabling them to thrive in an interconnected global landscape.
Don't forget to Join Us on Social Media Networks
Detail of UMY Scholarship Indonesia 2024:
Type: Fully Funded
Country: Indonesia
University: Universitas Muhammadiyah Yogyakarta
Degree level: Bachelors, Masters or Ph.D degree programs
Eligibility: International Students
Session: 2024 Batch 1
- You can also see at HAN University Netherlands Scholarships 2023-2024
Duration of Programs:
Undergraduate Degree Program: 4 academic years (7 semesters)
Postgraduate Degree Program: 2 academic years (3 semesters)
Doctoral Degree Program: 4 academic years
Available Majors and Fields:
These programs are offered by UMY Scholarship 2024. International students can apply to one of the following programs:
Undergraduate Programs:
Faculty of Medicine:
Department of Medicine

Dentistry

Nursing

Pharmacy

Apoteker Education Programme
Faculty Of Social & Political Science:
International Relations

Communication Sciences

Governmental Studies
Faculty of Language Studies:
Prodi Pend. Bahasa Inggris

Prodi Pend. Bahasa Arab

Prodi Pend. Bahasa Jepang
Faculty of Agriculture:
Agribusiness

Agrotechnology
Faculty of Engineering:
Civil Engineering

Electrical Engineering

Mechanical Engineering

Informatics Engineering
Faculty of Law:
Law
Faculty of Islamic Studies:
Communication and Islamic Broadcasting

Islamic Education

Muamalat (Islamic Banking and Finance)
Faculty of Economics and Business:
Management

Accounting

Economic Development (Islamic Economics and Banking)
Masters Programs:
Master of Management

Master of Islamic Studies

Master of Governmental Studies

Master of Nursing

Master of Politics and International Relations

Master of Hospital Management

Master of Law
Doctoral Programs:
Doctorate Programme of Islamic Education Psychology

Doctorate Programme of Islamic Politics
Benefits of UMY Indonesia Scholarships:
There are different options/scholarships for undergraduate, master's, and doctoral degree programs. All the detail is given below:
Those students who will be admitted to Undergraduate and or Postgraduate degree programs will be given full tuition fee redemption and living cost for the 1 year only. After that for the 2nd year scholarship benefits will be provided according to the following rules based on GPA:
For Undergraduate and Postgraduate Programs
If GPA ≥ 3.00, then Free tuition fees and living costs will be provided

If GPA 2.75 ≤ GPA < 3.00, then a discount of 75% of the tuition fee

If GPA < 2.75, then Scholarship Revoked
Master and Doctoral Program
If GPA ≥ 3.50, then Free tuition fees and living costs will be provided

If the GPA 3.25 ≤ GPA < 3.50, then a discount of 75% of the tuition fee

If the GPA 3.00 ≤ GPA < 3.25, then a Discount of 50 of the tuition fee

If GPA < 2.75, then Scholarship Revoked
Living Cost, Monthly allowances will be provided as follows:
Undergraduate: IDR 1,850,000

Master: IDR 2,350,000

Doctoral: IDR 2,600,000
---
Eligibility Criteria:
Applicants from anywhere in the world are eligible

Applicants should have a high school certificate for applying for an undergraduate degree, a bachelor's degree certificate for applying for a master's degree, and a master's degree for applying a doctoral degree program.

Applicants should be in good physical and medical health

Applicants' academic performance should be good

Applicants should have an English language certificate
---
Required Documents for Applying:
CV/Resume

High school certificate

Undergraduate certificate

Postgraduate certificate

Academic Transcript

Recommendation Letter from Home University

TOEFL / IELTS Results

Achievement Certificates

Research Proposal

Medical Check-up
---
Deadline:
The last date to apply for UMY Indonesia Scholarships is

10th November 2023
---
How to apply for UMY Indonesia Scholarships:
There is a very easy process to apply for UMY Indonesia Scholarships. First of all, applicants must have to submit their application through the online Portal. You can see the complete information on their official website.
---
ScholarshipsTree Network
wishes you good luck for your future success!
---
,Fully funded scholarship 2019-2020-2021-2022-2023-2024-2025-2026, study in Indonesia 2019-2020-2021-2022-2023-2024-2025-2026, scholarships for college students 2019-2020-2021-2022-2023-2024-2025-2026, scholarships for high school students 2019-2020-2021-2022-2023-2024-2025-2026, scholarships for african students 2019-2020-2021-2022-2023-2024-2025-2026, master and phd scholarships 2019-2020-2021-2022-2023-2024-2025-2026, undergraduate and graduate scholarships 2019-2020-2021-2022-2023-2024-2025-2026, opportunities corners, scholarships corners