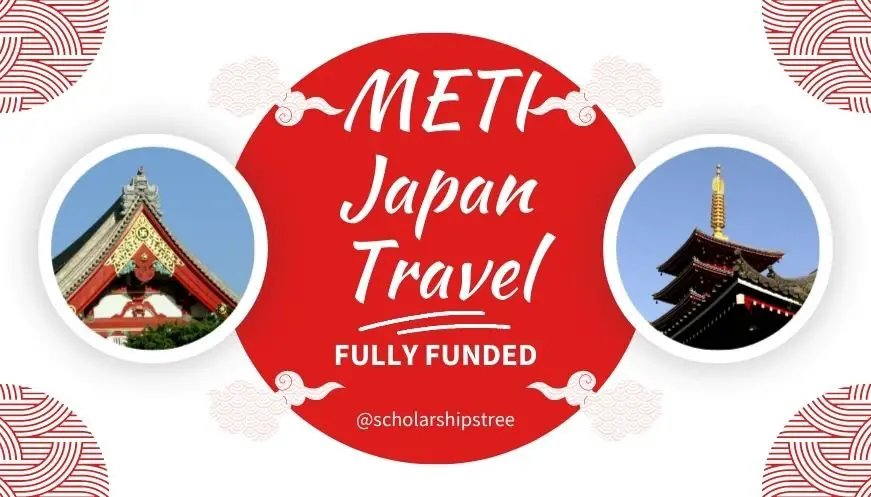 The METI Government of Japan Internship Program provides a unique opportunity for students from around the world to gain practical experience and insights into Japan's economic and industrial sectors. As one of the most technologically advanced and innovative countries, Japan offers a dynamic environment for interns to learn, grow, and contribute to various projects. This prestigious program, organized by the Ministry of Economy, Trade and Industry (METI), aims to foster international exchange, promote global cooperation, and cultivate future leaders in the fields of economics, trade, and industry. With its comprehensive curriculum, diverse internship placements, and support from experienced professionals, the METI Internship Program serves as a stepping stone for participants to enhance their skills, broaden their perspectives, and forge valuable connections in the global arena.
- You can also see at University of the People Scholarships in USA 2024
The METI Government of Japan Internship Program offers a well-structured and comprehensive curriculum that caters to the diverse interests and aspirations of its participants. Interns have the opportunity to gain hands-on experience in various sectors, including manufacturing, information technology, energy, and international trade. The program is designed to provide a holistic understanding of Japan's economic landscape and the challenges and opportunities it presents. Through a combination of lectures, seminars, company visits, and practical assignments, interns develop a deep appreciation for the country's business practices, technological advancements, and cultural nuances.
One of the key advantages of the METI Internship Program is the wide range of internship placements available. Participants are carefully matched with host companies that align with their academic background, career goals, and areas of interest. This ensures that interns are able to make meaningful contributions and gain relevant industry-specific knowledge during their internship. Whether it's working on cutting-edge research and development projects, analyzing market trends, or assisting in policy formulation, interns have the chance to engage in real-world projects and contribute to the growth and innovation of Japan's industries.
- You can also see at Mexican Government Scholarship 2023
Internship locations:
There are different locations for different internship courses:
Course A + Course C
Those companies that are small will conduct internships in Japan
Course B:
For course B: Interns will complete their internship in their home country under the direction of METI higher management
* you can apply for both opportunities
Don't forget to Join Us on Social Media Networks
Eligibile Countries:
Afghanistan, Albania, Bangladesh, Democratic People's Republic of Korea Armenia, Angola, Bolivia, Algeria, Cabo Verde, Benin, Zimbabwe, Antigua and Barbuda, Democratic Republic of the Congo,Cameroon Argentina, Bhutan, Congo, Azerbaijan, Burkina Faso, Côte d'Ivoire, Belarus, Burundi, El Salvador, Egypt, Belize, Cambodia, Bosnia and Herzegovina, Botswana, Central African Republic, Eswatini, Chad, Georgia, Brazil, Comoros, Colombia, Ghana, Costa Rica, Guatemala, Djibouti, Honduras, Eritrea, Dominica, India, Cuba, Ethiopia, Indonesia, Gambia, Jordan, Dominican Republic, Guinea-Bissau, Guinea, Kenya, Guinea, Ecuador, Kosovo, Equatorial Haiti, Kyrgyzstan, Micronesia, Fiji, Kiribati, Gabon, Mongolia, Moldova, Grenada, Morocco, Lesotho, Guyana, Liberia, Iran, Malawi, Madagascar, Nicaragua, Lao People's Democratic Republic,Iraq, Nigeria, Jamaica, Kazakhstan, Mali, Pakistan, Mauritania, Sao Tome and Principe, Papua New Guinea, Sri Lanka, Lebanon, Myanmar, Mozambique, Philippines, Syrian Arab Republic, Libya, Malaysia, Nepal, Marshall Islands, Maldives, Niger, Tokelau, Tajikistan, Rwanda, Tunisia, Mauritius, Mexico, Senegal, Uzbekistan, Ukraine, Montenegro, Vanuatu, Montserrat, Sierra Leone, Solomon Islands, Namibia, Somalia, Viet South Sudan, West Bank and Gaza Strip, Nam, Nauru, Palau, Niue, Sudan, North Macedonia, Togo, Paraguay, Tanzania,Timor-Leste, Panama, Tuvalu, Saint Helena, Peru, Saint Vincent and the Grenadines, Serbia, Uganda, South Africa, Zambia, Suriname, Yemen, Saint Lucia, Samoa, Turkmenistan, Venezuela, Wallis and FutunaThailand, Tonga, Turkey.
- You can also see at HAN University Netherlands Scholarships 2023-2024
Eligibility Criteria:
Applicants should follow the METI policies

Applicant should cooperate with Japanese companies

Applicants should belong to the eligible countries to apply

Applicants should have proficiency in the Japanese language are the English language

The age of the applicant should be between 18 to 40

A letter of recommendation is necessary to be selected

Your all documents are required to apply

Applicants should dedicate themselves to the full period of internship
Benefits of METI Internship in Japan:
Different training courses

Insurance for the period of internship

Transportation costs

Special allowances for drinks and meals

¥1,000 per day Stipend

Different communication devices such as PC, WiFi

Accommodation by the host company

Round-trip air tickets

Visa Assistance
- You can also see at Skoltech University Scholarship in Russia 2023
The core responsibility of METI Japan Internship:
Making internship Plan

Attendance in Pre-internship activities such as training and presentation etc

Taking care of your internship and health

Get in contact with the host company on a daily basis

Submission of all the relevant documents and other materials
Timeline for METI Internship Program in Japan:
METI Japan Internship will follow the below-given timeline for deadlines.
For Course A:
June 19, 2023
For Course B:
July 3, 2023
For Course C:
July 3, 2023
Short Detail of METI Japan Internship Program 2024:
Location: Japan and the applicant's home country
Financial Aid: Fully Funded
Host Companies: Small and medium-sized Japanese companies
Duration: Varies
Eligibility: International Students
How to apply for METI Japan Internship Program?
There is a simple process to apply for this Japanese Internship, You have to apply online at their Online application Portal. After that your secreening process will be carried out and then you will be inform about the final results. Please give your correct information in the application.
Internship Process:
Whole internship process will following the following sections:
Recruitment / Information sessions

Application

Selection / Matching

The Screening Committee

Notification of results/conclusion

Submission of internship plan

Preparation before starting the internship

Pre training

Interinship

Follow up training

Wrap up presentation

Completion of the internship
---
ScholarshipsTree Network
wishes you good luck for your future success!
---
, Japan internship opportunities, METI Government of Japan Internship Program, Global student internships in Japan, Economic sector internships in Japan, Practical work experience in Japan, Industrial sector internships in Japan, Leadership development program in Japan,