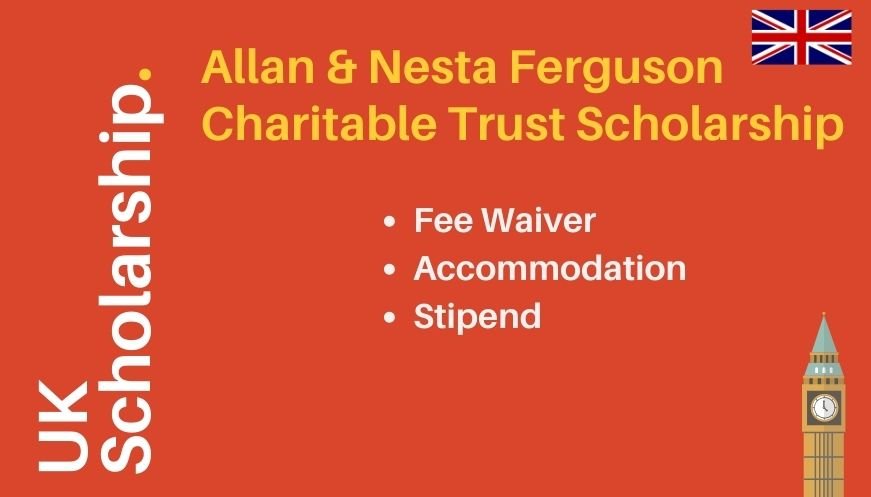 The University of Sheffield UK Scholarships 2023 is cooperating with Allan and Nesta Trust Charitable Scholarship and offering talented international students to give them the opportunity to study in the United Kingdom. The University of Sheffield is one of the best universities in the United Kingdom. The team of UoS is very ambitious, collaborative, excellent, inclusive and diverse, transparent, responsible, and working for the betterment of society. They have a core belief that in order to achieve high goals it is good to make an inclusive, conscious, and cooperative society.
 - You can also see Undergraduate Scholarship
The University of Sheffield is driving such good research-led programs that are encouraging, motivating, and challenging the diverse community of leading students. They will actively promote a high culture of research in their university community and provide a globally recognized product supported by major regional research revenues and facilities. The University of Sheffield has a strong commitment to global development. One of the themes of their strategy is persuading, encouraging, and promoting work for the betterment of others at home and abroad through their international relations. Based on this commitment, the Allan and Nesta Ferguson Charitable Trust, in partnership with the Sheffield Institute for International Development, is now eligible to award three scholarships a year to international students from developing countries.
Don't forget to Join Us on Social Media Networks
Benefits of the University of Sheffield UK Scholarships 2023:
By reviewing the benefits expected by UoS Allan and Nesta Trust, We can easily say that this is a Fully Funded UK Scholarship that is specifically available for coming international students who have good results and belong to developing and eligible countries. The number of scholarships is only 3, But students should apply for this opportunity, maybe you will be one of the three who will be selected. Benefits detail of the University of Sheffield A&N Trust Scholarship is hereby given below:
A full tuition fee waiver

Allowances for accommodation

Monthly stipend
---
You can also see at Masters Scholarship
---
Eligible Programs:
There are some specific courses in which Alan and Nesta under the University of Sheffield, are offering Scholarship in UK. But don't worry the eligible programs are now the world's top demanding programs and have good future value and have good scope. Remember, the below-given programs are Masters's Programs.
Master in International Development

Master in Public Health

Master in Environmental Change and International Development

Master in International Political Economy

Master in International Law and Global Justice

Master in International Public and Political Communication

Master in Intercultural Communication

Master in Global Journalism
---
Deadline:
The deadline for the University of Sheffield Scholarship in UK with the collaboration of Allan and Nesta Ferguson Charitable Trust is 5 May 2023
---
Eligible Countries:
Afghanistan, Bangladesh, Angola, Armenia, Bolivia, Benin, Bhutan, Cambodia, Burkina Faso, Burundi, Cabo Verde, Comoros, Cameroon, Central African Republic, Chad, the Democratic Republic of the Congo, Congo, Côte d'Ivoire, Democratic People's Republic of Korea, Equatorial Guinea, Djibouti, Egypt, El Salvador, Gambia, Eritrea, Ethiopia, Guinea, Georgia, Ghana, Guatemala, Haiti, Guinea-Bissau, Guyana, Indonesia, Honduras, India, Kosovo, Kenya, Kiribati, Liberia, Kyrgyzstan, Lao People's Democratic Republic, Lesotho, Mali, Madagascar, Malawi, Moldova, Mauritania, Micronesia, Myanmar, Mongolia, Morocco, Mozambique, Niger, Nepal, Nicaragua, Papua New Guinea, Nigeria, Pakistan, Paraguay, Samoa, Philippines, Rwanda, Solomon Islands, Sao Tome and Principe, Senegal, Sierra Leone, Sri Lanka, Somalia, South Sudan, Syrian Arab Republic, Sudan, Swaziland, Timor-Leste, Tajikistan, Tanzania, Tuvalu, Togo, Tokelau, Uzbekistan, Vietnam, Uganda, Ukraine, Vanuatu, Zambia, West Bank and Gaza Strip, Zimbabwe, Yemen
---
- You can also see at Doctoral Scholarship
---
Eligibility Criteria:
Applicants should have a study offer letter before the deadline

Applicants should apply for the study session of 2023-24

Applicants should have to apply for the eligible courses(given above) available at the University of Sheffield

Applicants should be categorized as an overseas student

This Allan and Nesta Scholarship can not be combined with any other reward, So applicants should not be having benefits of any other scholarship while applying

These above courses are full time and this scholarship is also for full-time study only

The starting year of study for the Allan & Nesta Scholarship is 2023

For applying at UoS A&N Scholarship, You have to belong to the eligible countries only
---
How to apply for the University of Sheffield A&N Scholarship in UK 2023?
A separate application to apply for the University of Sheffield UK Scholarship under Allan&Nesta Trust is merely not required. If you apply before the deadline and get an admission offer letter to study in one of the eligible courses before the deadline. Your application would automatically be considered for this scholarship, Also consider the eligible countries. You should use UoS online application portal HERE to apply for eligible courses.
---
Selection Process:
There are different stages in which different criteria have been set to access the applicants. If the applicant will pass every stage and meet the university admission criteria then the committee will contact the applicant before 18th May 2023. To further support and make string the application of the candidate, a short personal statement would then be required to be submitted by the candidates.
If, by any thoughts, applicants who have further queries can contact at their Email Address:[email protected]
---
---
ScholarshipsTree Network
wishes you good luck for your future success!
---
,scholarships in uk, scholarships for developing countries, study in europe, scholarships for black women, europe scholarships, scholarships to uk, masters scholarships, international scholarships