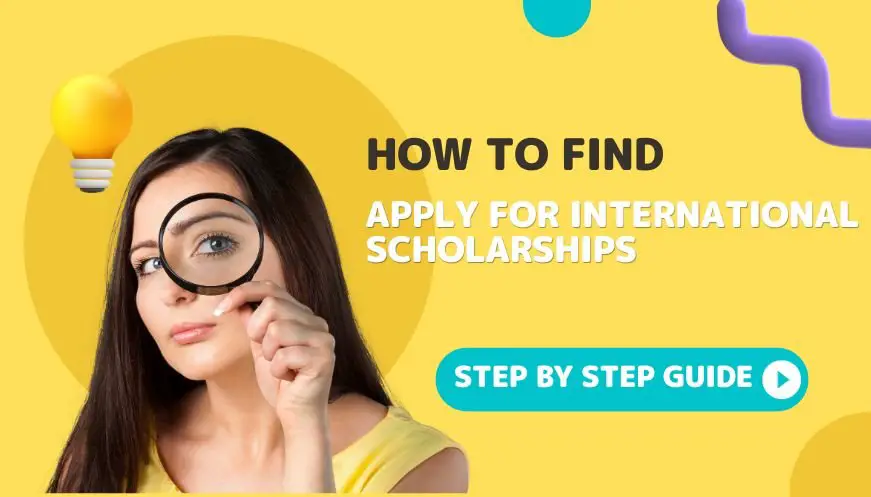 As the cost of higher education continues to rise day by day, scholarships play a very important role in making it affordable for desiring students. It is very necessary to find and apply for specific International Scholarships. International scholarships offer an incredible opportunity for worldwide students to pursue their education abroad and experience different cultures. However, finding and applying for many of these scholarships can be difficult. In this article, we will guide you through the process of researching, understanding, eligibility requirements, preparing necessary documents, and crafting a compelling scholarship application. That will help you to secure a good international scholarship opportunity for you.
Table of Contents:
Researching available international scholarships

Understanding the eligibility requirements

Preparing necessary documents

Developing a compelling scholarship application

Crafting a standout personal statement

Obtaining strong recommendation letters

Demonstrating academic excellence

Highlighting extracurricular achievements

Researching the host country and university

Preparing for scholarship interviews

Following up on scholarship applications

Exploring alternative funding sources
Finding International Scholarships
The first step towards finding international scholarships for international students is thorough research. You can start by exploring reputable scholarship databases and websites that list opportunities for international students. You can also get help from different Search Engines like Google, Bing Yahoo, etc. Always write accurate queries to get maximum relevant results. Some popular resources include:
And there are many others besides this. These platforms provide comprehensive information on available scholarships, including eligibility criteria, application deadlines, and contact details. You should make a list of scholarships that align with your interests, field of study, and desired host country.
Understanding the Eligibility Requirements
Before applying for any of these scholarships, it is important to thoroughly understand the eligibility requirements. Because every scholarship has specific criteria that applicants must meet to be considered. These criteria may include:
Academic Excellence:
Scholarships often require a minimum GPA or specific academic achievements.
Field of Study:
Some scholarships are specific to only certain fields of study.
Nationality:
Scholarships may be available only to those students who are from certain countries.
Language Proficiency:
Proficiency in the language of instruction may be necessary.
Financial Need:
Some scholarships prioritize students who demonstrate financial need.
Carefully review the eligibility requirements for each scholarship in which you are interested to ensure that you meet the eligibility criteria.
Don't forget to Join Us on Social Media Networks
Preparing Necessary Documents
It is important to gather all necessary documents before applying for scholarships. These documents may include:
Transcripts:
Official copies of your academic records.
Letters of recommendation:
Typically, two or three letters from teachers or mentors who can attest to your abilities and character.
Personal statement:
A well-crafted essay highlighting your aspirations, goals, and why you deserve the specific scholarship.
Resume/CV:
A comprehensive document outlining your academic achievements, extracurricular activities, and work experience.
Proof of language proficiency:
If required, provide official test scores (e.g., TOEFL, IELTS).
Financial aid documents:
In some cases, you may need to provide documents proving your financial need.
Ensure that all documents are up to date, and they should also be neatly organized, and meet the specific requirements outlined by each scholarship provider.
Creating an Impressive Scholarship Application
An impressive scholarship application requires planning and attention. Here are some tips to help you craft a strong application for your international scholarship:
Start early:
Begin your application process well in advance to allow enough time for research, document preparation, and revisions.
Customize Your Application:
Customize your application to fit the requirements and objectives of each scholarship. Highlight the section containing how you meet the criteria and align with the scholarship's goals.
Be concise and clear:
Write clearly and concisely, focusing on key points and avoiding unnecessary details. Use simple language that effectively communicates your ideas.
Proofread and edit:
Thoroughly proofread your application to ensure there are no grammatical or spelling errors. Consider seeking feedback from teachers or mentors to improve the clarity and impact of your application.
Follow instructions:
Please make sure to follow the guidelines for the scholarship application. Failure to follow instructions may result in disqualification.
Remember, a well-prepared and thoughtful scholarship application significantly increases your chances of success.
Creating an Exceptional Personal Statement
The personal statement is your opportunity to showcase your strengths, accomplishments, and aspirations. Follow these tips to create an exceptional personal statement for your application for the international scholarship:
Start with an engaging introduction:
Capture the reader's attention from the beginning with a compelling opening statement
Showcase your passion:
Demonstrate why you are passionate about your field of study and how it aligns with your future goals.
Provide examples:
Share your experiences, accomplishments, and obstacles to showcase your abilities and perseverance.
Be genuine and authentic:
It's best to avoid using overused phrases and instead, express yourself genuinely. Let your unique voice shine through in your writing.
Connect with the scholarship objectives:
Articulate how receiving that specific scholarship will enable you to contribute to its goals and make a positive impact.
Take the time to carefully draft and revise your personal statement to ensure it reflects your best self.
Obtaining Strong Recommendation Letters
Strong recommendation letters play a crucial role in your scholarship application. Consider the following tips when requesting recommendation letters:
Choose the right recommenders:
Select individuals who know you well academically, professionally, or personally and can speak positively about your abilities and character.
Provide necessary information:
Give your recommenders Sufficient information. about the scholarship, including relevant details about your goals, achievements, and experiences.
Request early:
Give your recommenders enough time to write a thoughtful and detailed letter. Ask for their assistance well in advance of the application deadline.
Follow up with gratitude:
Once the letters have been submitted, express your gratitude to your recommenders for their time and support.
Remember, a strong recommendation letter can provide valuable insight into your qualifications and greatly enhance your application.
Demonstrating Academic Excellence
Academic excellence is an important aspect of many scholarship applications. Here are some steps you can take to demonstrate your academic abilities:
Maintain a high GPA:
Strive for academic excellence throughout your higher studies.
Take challenging courses:
Enroll in advanced or honors courses, where available, to demonstrate your commitment to academic rigor.
Participate in research projects:
Engage in research initiatives within your field of study to showcase your intellectual curiosity and problem-solving skills.
Attend conferences or present papers:
Participate in academic conferences or present your research findings to demonstrate your active involvement in your field.
Highlighting your academic achievements will help strengthen your scholarship application.
Highlighting Extracurricular Achievements
Scholarship providers value well-rounded individuals who are actively involved in extracurricular activities. Here's how you can highlight your extracurricular achievements:
Leadership roles:
Showcase any leadership positions you have held in clubs, organizations, or community service activities.
Volunteer work:
Highlight your involvement in volunteer initiatives and emphasize the impact you have made.
Sports or arts accomplishments:
If you excel in sports or the arts, include any notable achievements or awards you have received.
Internships and work experience:
Describe any internships or relevant work experience you have gained, emphasizing the skills and knowledge you acquired.
Demonstrating your commitment and engagement outside of the classroom will demonstrate your holistic development and character.
Researching the Host Country and University
Before applying for an international scholarship, thoroughly research the host country and university you intend to study at. Consider the following points:
Cultural differences:
Familiarize yourself with the cultural norms, customs, and expectations of the host country.
University rankings and reputation:
Research the reputation, ranking, and strengths of the university to ensure it aligns with your academic goals.
Scholar support services:
Explore the support services offered to international scholars, such as language courses or mentorship programs.
Cost of living:
Evaluate the cost of living in the host country to ensure it fits within your budget.
Understanding the host country and university will help you make an informed decision and present your motivation to study there in your scholarship application.
Preparing for Scholarship Interviews
Some scholarships may require an interview as part of the selection process. Here are some tips to help you prepare:
Research common interview questions:
It's essential to acquaint yourself with common interview questions and craft well-thought-out and concise answers.
Practice with mock interviews:
Conduct practice interviews with friends, family, or mentors to gain confidence and refine your answers.
Demonstrate passion and motivation:
Emphasize your commitment to your field of study and your eagerness to contribute to the scholarship's objectives.
Dress professionally and maintain good body language:
Dress appropriately for the interview and maintain positive body language to convey your professionalism and confidence.
Prepare questions to ask:
Show interest in the scholarship, the host institution, and the opportunities it offers by preparing thoughtful questions to ask the interviewers.
By thoroughly preparing for scholarship interviews, you increase your chances of leaving a positive impression.
Following up on Scholarship Applications
After submitting your scholarship application, it is important to follow up on your submission. Consider the following steps:
Confirmation of receipt:
If the scholarship provider has not sent a confirmation of receipt, reach out to them to ensure your application has been received.
Express gratitude:
Send a thank-you email or letter to the scholarship provider to show your appreciation for the opportunity.
Stay informed:
Keep track of any updates or notifications from the scholarship provider, as they may require additional documents or have interview scheduling information.
Following up demonstrates your continued interest and professionalism.
Exploring Alternative Funding Sources
While international scholarships are a fantastic opportunity, they can be highly competitive. To maximize your chances of securing funding, it is essential to explore other funding sources as well. Consider the following alternatives:
Grants and fellowships:
Research grants and fellowships are offered by research institutions, foundations, and non-profit organizations.
Financial aid programs:
Check if the host university offers scholarships or financial aid programs for international students.
Sponsorship opportunities:
Research organizations, corporations, or government agencies that offer scholarships to international students.
By casting a wider net and exploring alternative funding sources, you increase your chances of securing financial support for your higher studies.
In conclusion, finding and applying for international scholarships requires diligent research, understanding eligibility requirements, thorough preparation of necessary documents, and presenting a compelling scholarship application. By following the steps outlined in this article and utilizing the available resources, you can enhance your chances of successfully securing a scholarship and pursuing your dream of studying abroad.
Remember, persistence and dedication are key when it comes to seeking financial support for your education. Good luck in your scholarship search and application process!
Keywords: Undergraduate Scholarships, Boston University Scholarship in USA, Duke University USA Scholarship
---
ScholarshipsTree Network
wishes you good luck for your future success!
---
,Study Abroad Scholarships, Financial Aid for International Students, Merit-Based Scholarships, Need-Based Scholarships, Application Process for Scholarships, Tips for Winning Scholarships, International Student Grants,