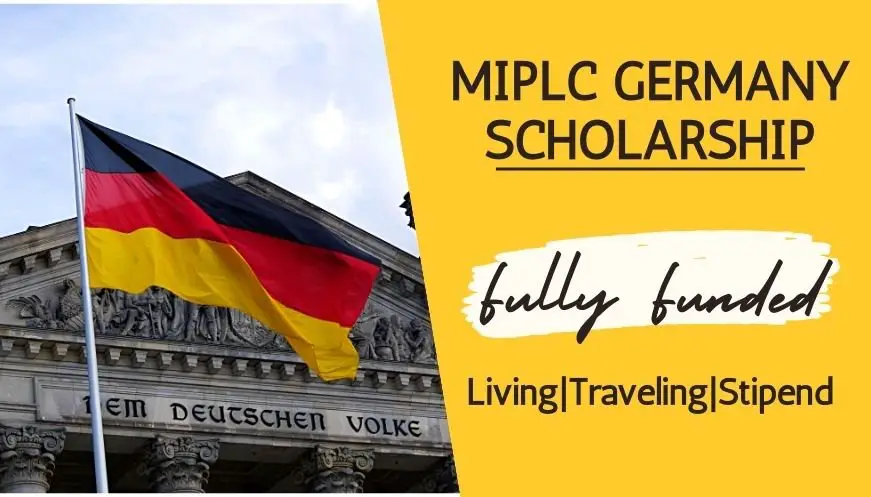 The MIPLC Germany Scholarships are an excellent opportunity for students interested in pursuing a career in Germany. MIPLC, located in Munich, Germany, is a renowned institution that offers specialized programs. The scholarships provided by MIPLC aim to support outstanding students from around the world, enabling them to gain valuable knowledge and experience in this exciting and rapidly evolving field.
The MIPLC-DAAD scholarships are designed to attract exceptional candidates from around the world who demonstrate a strong passion for higher studies. These scholarships cover a variety of expenses, including tuition fees, living costs, and travel expenses. By partnering with DAAD, MIPLC aims to ensure that financial barriers do not hinder talented individuals from pursuing their academic aspirations in this specialized area of law.
- You can also see at Politecnico di Milano Study Abroad Scholarships in Italy
The collaboration between MIPLC and DAAD offers several advantages to scholarship recipients. Firstly, it provides an opportunity to study in Germany, a country renowned for its robust intellectual property framework and thriving innovation ecosystem. This exposure to the German legal system and industry practices can provide valuable insights and a solid foundation for a future career in Germany
The MIPLC Germany Scholarships provide not only financial support but also access to top-quality education in Germany. MIPLC collaborates with prestigious universities and organizations worldwide, offering a comprehensive curriculum that combines theoretical knowledge with practical skills. Students have the opportunity to learn from leading experts in the field and engage in interactive discussions and case studies. Additionally, MIPLC's location in Munich, a city known for its vibrant intellectual property community, provides scholars with valuable networking opportunities and exposure to cutting-edge research and innovation in the field.
- You can also see at Distance Learning Degrees for Career Advancement
Don't forget to Join Us on Social Media Networks
Available Majors and Fields:
A list of available majors and fields offered by the MIPLC DAAD Scholarship 2024-2025 at MILPC Institute is given below. But applicants must have to keep in mind that MIPLC is offering post-graduate degree programs in development-related courses. You can check postgraduate courses for 2023-2024 HERE and postgraduate courses for 2024-2025 HERE
Economic Sciences / Business Administration / Political Economics
International and Development Economics

Development Economics

Small Enterprise Promotion and Training
Development Cooperation
Development Management

Geography of Environmental Risks and Human Security

Bonn International Graduate School for Development Research

Sustainable Development Management
Engineering and Related Sciences
Hydro Science and Engineering

Textile and Ready-Made Clothing Technology

Engineering in "Energy and Environmental Management in Developing Countries"

Water Resources and Environmental Management

Postgraduate Programme Renewable Energy

Photogrammetry and Geoinformatics

Infrastructure Planning

Engineering in Air Quality Control, Solid Waste, and Waste Water Process

Natural Hazards and Risks in Structural Engineering
Mathematics
Mathematics in Industry and Commerce
Regional and Urban Planning
Urban Management

Regional Development Planning and Management

Integrated Urbanism and Sustainable Design
Agricultural and Forest Sciences
Agricultural Sciences and Resource Management in fields of Tropics and Subtropics

Tropical Forestry

Agricultural Economics, Bioeconomy and Rural Development

Tropical and International Forestry

Agricultural Economics

International Horticulture
Natural and Environmental Sciences
International Studies in Aquatic Tropical Ecology

Environmental Governance

Landscape Ecology and Nature Conservation

Natural Resources Management and Development

Integrated Water Resources Management

Renewable Energy Management

Environment and Resources Management
Medicine / Public Health
Global Urban Health

International Health
Social Sciences, Education and Law
Vocational Education and Personnel Capacity Building

International Education Management

Intellectual Property and Competition Law
Media Studies
Master programs in Laws in Intellectual Property and Competition Law
---
Detail of MIPLC Scholarship in Germany:
Financial Aid: Fully Funded
Country: Germany
Host Institution: MIPLC
City: Munich
Supported By: DAAD Scholarships
Degree level: Masters and Ph.D. degree programs
Duration: Depends upon the program you choose
---
Benefits of

MIPLC Scholarship in Germany 2024-2025

:
There are many benefits of the MIPLC Scholarship in Germany. These benefits would load off a lot of financial burden from students' shoulders because these benefits are covering much of the selected student's benefits. Selected will also have a chance to learn 2 months of German language course which is free of cost. A detailed list of all the expected benefits is given below:
Full tuition waiver

Participation fee

Monthly stipend of EUR 934 for masters and EUR 1200 for doctoral degree program

Health Insurance

Accidental Insurance

Liability Insurance

Travel Allowance

Study Allowance

Research Allowance

Mandatory 2 months German course
- You can also see at Humphrey Fellowship Program 2023 in USA
Eligibility Criteria:
Applicants must have to read the given criteria in order to apply for MIPLC Germany scholarships. If you do not fulfill the required criteria then you should not apply.
Eligible Countries: Applicants should belong to developing countries. The list of eligible countries can also be seen

HERE
Other Requirements:
Applicants must have a 4-year bachelors degree to apply for the master's degree program to obtain

Masters scholarships OR postgraduate scholarships at MIPLC

Applicants must have a masters degree to apply for the doctoral degree program to obtain

Ph.D scholarships OR doctoral scholarships at MIPLC

Applicants must receive his / her latest degree no more than 6 years before the scholarship deadline

Applicant's academic performance should be very good

Applicants must meet the English language requirements of the MIPLC

Applicants should have a minimum of 2 years of full-time professional experience
---
Required Documents for Applying:
Latest CV in Europass format (You can see Europass CV format

HERE

)

A hand-signed letter of motivation

All transcripts

Two letters of recommendation

Degree certificates/diplomas

Professional experience certificate

School leaving certificate

Grade conversion sheet

English language certificate that is (CPE TOEFL, IELTS, etc

Application Fee (It is a non-refundable fee of EUR 50)

Two portrait photographs
---
Deadline:
Please keep in mind that applicants should have to apply more than a year in advance and that is between June 1 and October 15 for the following academic year.
---
How to apply for MIPLC Germany Scholarships 2024-2025:
There is a proper process to apply for MIPLC Scholarships in Germany. You have to follow 5 steps to apply. Please read the below-given steps: Applicants must have to apply at MIPLC and also for the scholarship
Step 1:
In the very first step, applicants should have to download the application instructions from HERE and read every instruction.
Step 2:
In this second step, Applicants have to complete the online application form of MIPLC at HERE. Complete the given application form with all the correct information. You can also fill the sample application form so that you can know about all the required information required in the original application form.
Step 3:
Download the filled application form usually in a PDF file. Print it out, and sign the application form.
Step 4:
In this fourth step, applicants must have to attach all the required documents according to the checklist. Don't miss any type of document which may make your application incomplete.
Step 5:
Please upload your all documents and application form to their file-sharing platform which is explained in the application instructions file
---
IMPORTANT NOTE:
There are different steps to apply for admission, for a fee waiver scholarship, and for DAAD Scholarship. Again you are requested to read carefully the application instructions HERE and then move further.
---
ScholarshipsTree Network
wishes you good luck for your future success!
---
,scholarships to germany, masters scholarships, Intellectual Property Law, how to write a cv, Scholarship to Europe, Career opportunities, doctoral scholarships, Top Scholarships in germany