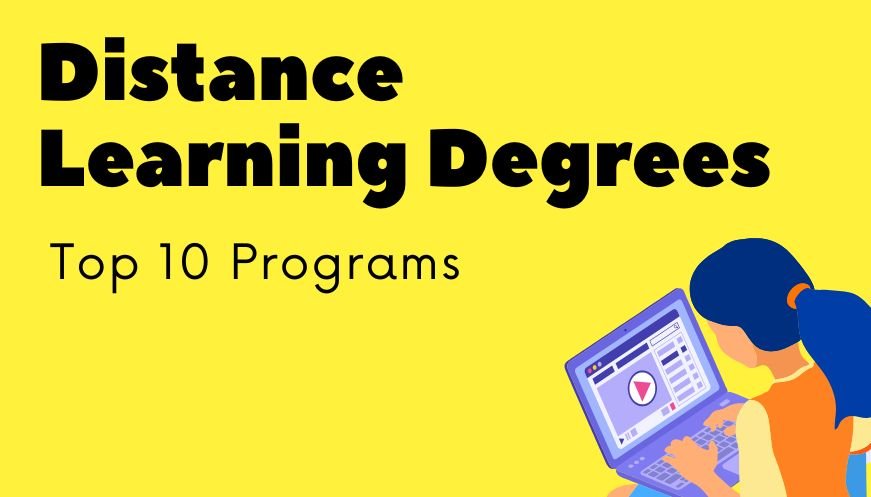 Introduction to Distance Learning Degrees
In today's rapidly evolving job market, obtaining a degree that aligns with industry demands is crucial for career advancement. Distance learning degrees have gained significant popularity due to their flexibility and accessibility. In this article, we will explore the top 10 distance learning degrees that offer excellent career prospects.
Whether you're a working professional seeking to enhance your skills or an individual looking to embark on a new career path, these degrees can provide the necessary knowledge and credentials for success.
Understanding the Value of Distance Learning Degrees:
Distance learning degrees have revolutionized the way individuals pursue higher education. With the advancements in technology, it has become easier to access quality education from the comfort of your own home. The benefits of distance learning include flexibility in scheduling, affordability, and the ability to balance work and education.
It's crucial to choose accredited institutions for distance learning programs to ensure the quality and recognition of the degree.
- You can also see at Sabanci University Turkey Scholarship
Methodology and Criteria for Selection:
In order to determine the top 10 distance learning degrees for career advancement, several factors were considered. These factors included industry demand, salary potential, growth prospects, and alignment with future job market trends. The degrees selected for this list offer practical skills and knowledge applicable to real-world scenarios, ensuring graduates are well-equipped to succeed in their chosen fields.
Top 10 Distance Learning Degrees for Career Advancement:
Business Administration:
A distance learning degree in business administration equips students with essential skills in areas such as management, marketing, finance, and entrepreneurship. Graduates can pursue diverse career paths in various industries and even start their own ventures.
Computer Science:
The demand for computer science professionals continues to rise. A distance learning degree in computer science offers courses in programming, data analysis, cybersecurity, and software development, opening doors to rewarding careers in technology-related fields.
- You can also see at University of Regina Canada Scholarships 2023-2024
Don't forget to Join Us on Social Media Networks
Nursing:
Distance learning nursing programs provide the opportunity for Registered Nurses (RNs) to pursue higher education and specialize in areas such as critical care, pediatric nursing, or gerontology. The healthcare industry offers a multitude of career paths for nursing graduates.
Education:
With a distance learning degree in education, individuals can enter the field of teaching, curriculum development, or instructional design. This degree equips graduates with the knowledge and skills needed to make a positive impact in educational settings.
Psychology:
The field of psychology offers a wide range of career opportunities. A distance learning degree in psychology provides a comprehensive understanding of human behavior, research methodologies, and counseling techniques, preparing graduates for roles in clinical, organizational, or educational settings.
- You can also see at Minerva Scholarship Fund 2023 Scholarships in Netherlands
Engineering:
Distance learning engineering programs offer specialized areas such as civil engineering, mechanical engineering, and electrical engineering. Graduates can pursue careers in design, project management, research, and development, contributing to technological advancements across various industries.
Environmental Science:
As environmental concerns grow, the demand for professionals with expertise in environmental science continues to rise. A distance learning degree in this field equips individuals with knowledge about climate change, biodiversity, and environmental policy, opening doors to careers in environmental consultancy, conservation organizations, and government agencies.
- You can also see at Politecnico di Milano Study Abroad Scholarships in Italy
Graphic Design:
In the digital age, graphic design plays a crucial role in various industries. A distance learning degree in graphic design equips individuals with skills in visual communication, branding, and digital design, paving the way for careers in advertising, marketing, and multimedia.
Criminal Justice:
A distance learning degree in criminal justice prepares individuals for careers in law enforcement, corrections, legal services, and homeland security. Students gain a comprehensive understanding of the criminal justice system, criminology, and forensic science.
Healthcare Administration:
Distance learning programs in healthcare administration provide individuals with the knowledge and skills required for managerial roles in healthcare organizations. Graduates can pursue careers as healthcare administrators, hospital managers, or healthcare consultants.
Conclusion:
Obtaining a distance learning degree can be a game-changer in your career advancement journey. The top 10 distance learning degrees mentioned in this article offer excellent opportunities for personal and professional growth. With the flexibility and accessibility of distance learning, individuals can acquire the knowledge and credentials needed to excel in their chosen fields. Whether you're considering a career change or looking to enhance your existing skills, these degrees provide a solid foundation for success. Embrace the benefits of distance learning and embark on a journey toward a rewarding and fulfilling career.
---
ScholarshipsTree Network
wishes you good luck for your future success!
---
,Online education, Accredited distance learning, Career prospects, Flexible learning options, Professional development, Industry demand, Remote learning opportunities, Virtual degree programs