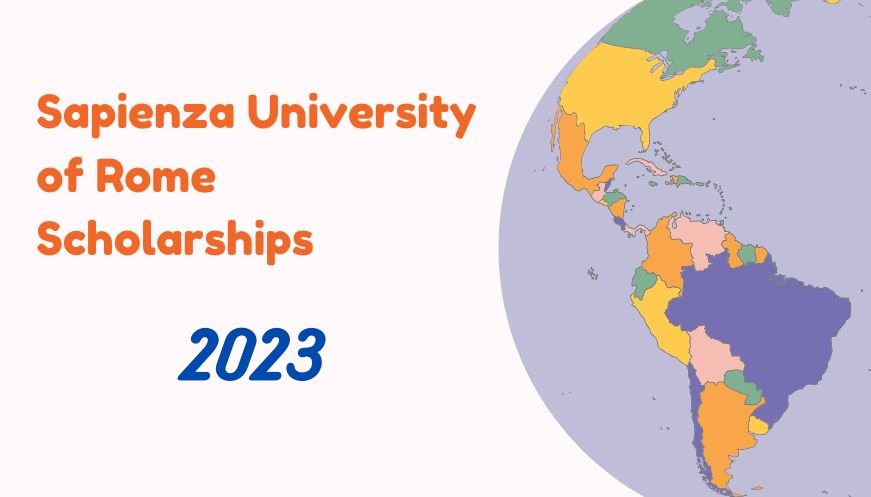 Imagine the opportunity to study at Sapienza University, situated in the heart of Rome, Italy, where centuries of history and cutting-edge education converge seamlessly. The International Post-Degree Scholarship offered by Sapienza University opens the doors for students worldwide to embark on postgraduate studies at one of Europe's oldest and most prestigious institutions.
- You can also see at University of Groningen Scholarships in Netherlands 2024
This scholarship program is designed for those who have completed their bachelor's or master's degrees, presenting them with a chance to continue their academic journey in a vibrant and historic setting. By covering tuition fees and providing a monthly stipend, the scholarship removes financial barriers and allows recipients to focus wholeheartedly on their studies and research endeavors.
Sapienza University is renowned for its commitment to groundbreaking research and innovation. The International Post-Degree Scholarship aligns perfectly with this ethos, granting scholars access to world-class faculty members and cutting-edge resources across a diverse range of fields, from humanities to sciences. Beyond the academic realm, the scholarship provides an immersive experience in the captivating cultural and intellectual milieu of Rome.
- You can also see at Miami University Scholarships in USA 2024
Studying under the International Post-Degree Scholarship isn't just about textbooks and lectures; it's a journey of personal and academic growth. Beyond the classroom, scholarship recipients are invited to explore the treasures of Italian culture, history, and art. This opportunity for cultural immersion, combined with the chance to collaborate with a global community of fellow scholars, makes the scholarship a stepping stone towards becoming a well-rounded, internationally-aware contributor to today's interconnected world.
---
Don't forget to Join Us on Social Media Networks
Eligible Departments:
There are hundreds of programs that are being taught at the University of Rome and different faculties and departments are also working under the university's jurisdiction. In the following list, you will find all the departments working at the Sapienza University of Rome.
Architecture and Design

Anatomical Histological Medical Legal Sciences and Locomotor Apparatus

Astronautical, Electrical, and Energy Engineering

Ancient World Studies

Chemical Engineering Materials Environment

Basic and Applied Sciences for Engineering

Biochemical Sciences "Alessandro Rossi Fanelli"

Clinical and Molecular Medicine

Biology and Biotechnology "Charles Darwin"

Chemistry

Computer, Control, and Management Engineering

Chemistry and Technology of Drugs

Civil, Building, and Environmental Engineering

Clinical Internal, Anesthesiological, and Cardiovascular Sciences

Economics and Law

Communication and Social Research

Computer Science

General Surgery, Surgical Specialities

PDTA - Design and Architectural, Territorial, Environmental Technologies

Dynamic and Clinical Psychology, and Health Studies

Earth Sciences

History, Representation and RA

Environmental Biology

European, American and Intercultural Studies

Experimental Medicine

History, Anthropology, Religion, Arts and Performing Arts

Juridical and Economic Studies

Maternal Infantile and Urological Sciences

Human Neuroscience

Information Engineering, Electronics and Telecommunications

Italian Institute of Oriental Studies

Law and Economics of Productive Activities

Medico-Surgical Sciences and Biotechnologies

Legal Studies

Literature and Modern Cultures

Management

Mathematics "Guido Castelnuovo"

Methods and Models for Economics, TF

Mechanical and Aerospace Engineering

Philosophy

Molecular Medicine

Neurosciences, Mental Health and Sensory Organs

Oral and Maxillo-Facial Sciences

Public Health and Infectious Diseases

Physics

Social and Developmental Psychology

Physiology and Pharmacology "Vittorio Erspamer"

Political Science

Psychology

Radiological Sciences, Oncology and Anatomical Pathology

Surgery " Pietro Valdoni"

Sense Organs

Social Sciences and Economics

Translational and Precision Medicine

Statistical Sciences

Structural and Geotechnical Engineering

Surgical and Medical Sciences and Translational Medicine

Surgical Sciences
Call 2023:
This is call 2023 which is the first type of scholarship available at Sapienza University of Rome that has a duration of 6 months to 12 months. The grant amount of this scholarship is € 1,290.00. Applicants can apply for this scholarship by submitting a single application for admission to a single CUN disciplinary area. Please note that applicants must have to apply before the due date because, after the due date, no application would be accepted. The last date to apply for this scholarship is 13 September 2023.
---
- You can also see at Oxford Clarendon UK Scholarships 2024
Detail of Sapienza University of Rome:
Country: Italy
Supported by: University Itself
University: Sapienza University of Rome:
Degree: Masters degree program
Duration: The duration of the scholarship is 6 months to 12 months of full-time study OR 2 years
- You can also see at Hodder Fellowship Program 2024
Deadline:
The last date to apply for Sapienza Scholarship Italy is September 13, 2023.
How to Apply:
You don't have to submit a separate application for the Scholarship. You can apply while applying for admission to master's program at Sapienza University.
Eligibility Criteria:
Applicants must have a bachelor's degree to apply for master's degree program at Sapienza University of Rome

Applicants should have good academic grades.

Applicants should be able to travel to Italy

SAT is required for some of the scholarship programs

Applicants should be physically and mentally fit
---
ScholarshipsTree Network
wishes you good luck for your future success!
---
,australia student visa requirements, australia student visa, professional cv format, how to write a cv, Canadian Scholarships, graduate scholarships, Masters scholarships, international scholarships