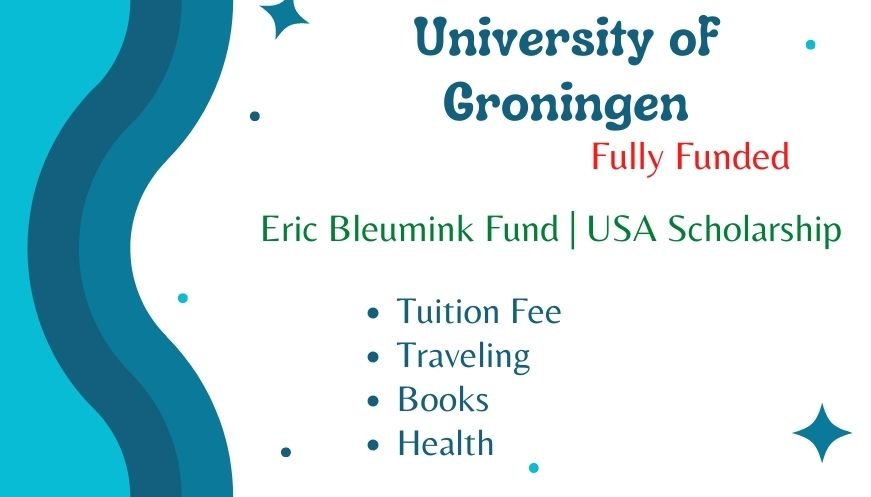 The Eric Bleumink Scholarship, offered by the University of Groningen in the Netherlands, stands as a prestigious opportunity for international students seeking higher education in one of Europe's leading academic institutions. Named in honor of the university's former rector, Professor Eric Bleumink, this scholarship program aims to support outstanding students from developing countries who display exceptional academic talent and demonstrate a commitment to contributing positively to their home countries upon completion of their studies. With a strong emphasis on academic excellence and social engagement, the Eric Bleumink Scholarship has become a beacon of hope for talented individuals with limited financial means, empowering them to pursue their dreams of academic and professional success.
- You can also see at The Lisa Jardine Grant Scheme UK Scholarships
Founded in 1614, the University of Groningen has a long and illustrious history of providing world-class education in a vibrant and innovative learning environment. Through the Eric Bleumink Scholarship, the university reaffirms its commitment to promoting diversity and inclusivity within its student community. This Netherlands scholarship program covers a wide range of disciplines, including but not limited to natural sciences, social sciences, arts, and humanities, ensuring that students from diverse academic backgrounds can avail themselves of this life-changing opportunity. Not only does this scholarship grant recipients access to top-notch education in the Netherlands, but it also nurtures their leadership potential and fosters a global network of future change-makers.
The Eric Bleumink Scholarship is highly competitive and attracts exceptional candidates from across the globe, creating a dynamic and culturally diverse atmosphere on campus. By providing financial support for tuition fees, living expenses, and other study-related costs, this scholarship eases the financial burden on recipients, enabling them to fully immerse themselves in their academic pursuits. Moreover, scholars benefit from the University of Groningen's state-of-the-art facilities, world-renowned faculty, and research opportunities, equipping them with the knowledge and skills needed to make a meaningful impact in their respective fields and effect positive change in their home countries.
- You can also see at Young Leaders Program in Japan 2024
Over the years, the Eric Bleumink Scholarship has produced a host of remarkable success stories, with many alumni achieving significant accomplishments in academia, research, and various professional spheres. Beyond academic excellence, recipients are encouraged to actively engage in extracurricular activities and community service, fostering a well-rounded and socially conscious approach to education. As prospective students embark on their educational journey, the Eric Bleumink Scholarship beckons as an exceptional avenue for aspiring leaders and visionaries, empowering them to shape a brighter future for themselves and their communities while leaving an indelible mark on the world.
Don't forget to Join Us on Social Media Networks
Detail of University of Groningen Scholarships:
Country: United States of America
Host University: University of Groningen
Degree: Master's programs
Category:

Graduate scholarships, Masters scholarships
Eligible: Selected Countries
- You can also see at Marymount Manhattan College Scholarships in USA 2024
What is the duration of the Duration University of Groningen USA Scholarships?
The scholarship would be provided for the duration of 1 year or 2 years, depending upon the program that you choose.
Eligible Programs:
About all the programs that are being taught at the University of Groningen are available for this USA scholarship. You can see below all the eligible courses. Besides this, you can also see the full list of Eligible Programs HERE.
Accountancy and Controlling

American Studies

Ancient History

Applied Cognitive Neuroscience

Behavioral and Cognitive Neurosciences

Behavioral and Social Sciences

Biology

Cultural Leadership - Research

Central-East European Economies

China and the World Economy

Infrastructure

Urban Planning, Society and Sustainability

Water and Coastal Management

Deafblindness

Dentistry (Dutch taught)

Digital Humanities

Dutch Law (Dutch taught)

Dutch Studies (Dutch taught)

East Asian Studies

European Linguistics

European Literature and Interculturality

European Politics in a Global Perspective

European Studies

Executive Master of Finance and Control

Film and Contemporary Audiovisual Media

Finance

Geopolitics & Connectivity

Global Criminal Law

Governance and Law in Digital Society

Human Movement Sciences

Human Resource Management

Industrial Engineering and Management

Information Science

Innovative Medicine

International Business and Management

International Commercial Law

Islands and Sustainability

Journalism (Dutch taught)

Journalism (English taught)

Klinische Psychologie (Dutch taught)

Labour Law (Dutch taught)

Landscape History (Dutch taught)

Language and Cognition

Language and Communication Technologies

Management Accounting and Control

Marine Biology

Marketing

Mathematics
Benefits of University of

Groningen Scholars

hips in USA:
Want to study in USA on Fully Funded USA Scholarships? Want to pursue your higher studies in USA but don't have enough resources even for your travel? Don't worry! The University of Groningen is welcoming international students with such a great chance you can study for your master's degree program on Fully Funded USA Scholarships.
Coverage from such scholarships would load many financial burdens on students' shoulders. The detail of the benefits are given below:
Tuition fee

Costs of international travel

Subsistence

Books

Health Insurance
- You can also see at Miami University Scholarships in USA 2024
Eligibility Criteria:
Applicants who want to apply for this USA Scholarship must follow the below-given points.
Eligible Countries:
Afghanistan, Africa and Angola, Armenia, Bangladesh, Benin, Bhutan, Bolivia, Burkina Burundi, Cambodia, Cape Central Chad, Comoros, Congo Congo, Dem. Djibouti, El Equatorial Eritrea, Ethiopia, Faso, Gambia, Ghana, Guinea, Guinea-Bissau, Haiti, Honduras, India, Indonesia, Islands, Kiribati, Korea, Kosovo, Kyrgyzstan, Laos, Leone, Lesotho, Liberia, Madagascar, Malawi, Mali, Mauritania, Moldova, Mongolia, Morocco, Mozambique, Myanmar, Nepal, Niger, Nigeria, Principe, Rep.), Rep., Republic, Rwanda, Salvador, Sao Senegal, Sierra Solomon Somalia, South Sudan Sudan, Tanzania, Timor-Leste, Togo, Tome Tuvalu, Uganda, Ukraine Uzbekistan, Vanuatu, Verde, Vietnam, Yemen, Zambia,
Other Requirements:
Applicants should have received an unconditional and conditional study letter from the University of Groningen before February.

Applicants should apply to eligible master's programs, List can be seen

HERE

Applicants Should have excellent academic performance

Academic excellence performance should be confirmed by the letters of recommendation

English language proficiency is also required

Applicants for

Master's scholarships

should have an undergraduate degree to apply for master's degree

Applicants should have high grades in their bachelor/undergraduate degree program

Applicants should be available for the whole duration of the program 1 year or 2 years

The health of applicants' relevant to mental and physical should be good

Applicants should have no other resources for financing their studies
---
How to apply for the University of Groningen Netherlands Scholarships?
Applicants don't have to directly apply for this scholarship. Applicants first have to apply for an eligible master's program. Those applicants who meet the eligibility criteria would be notified by the administration. The decision would be taken by the University of Groningen Admission Office that which applicant should be nominated for this scholarship. The applications for master's scholarships should be completed before the 1st of December.
---
Contact Information:
If you have any queries about this program then you can ask here at msd@rug.nl and the Eric Bleumink Fund HERE
---
ScholarshipsTree Network
wishes you good luck for your future success!
---
,Scholarships in netherlands, Developing country educational grants, master scholarships, postgraduate scholarships, Academic excellence scholarships, International student scholarships, netherlands scholarships for international students, usa study support program