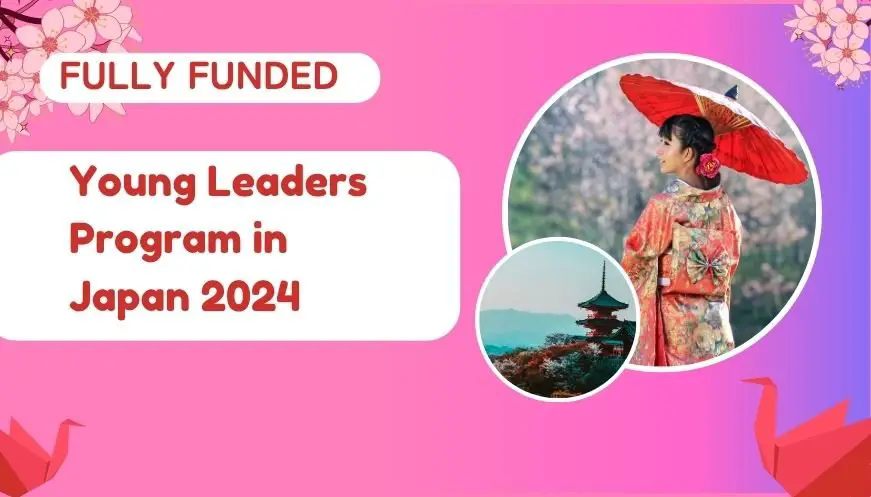 The Young Leaders Program in Japan, hosted by the esteemed National Graduate Institute for Policy Studies (GRIPS), is a prestigious and transformative initiative aimed at nurturing tomorrow's global changemakers. Drawing in bright minds from diverse backgrounds, the program offers a rigorous curriculum that blends academic excellence with practical leadership training. Participants engage in interdisciplinary discussions, projects, and exercises facilitated by world-class faculty, creating a dynamic and inclusive learning environment.
- You can also see at Marymount Manhattan College Scholarships in USA 2024
Beyond academic pursuits, the YLP prioritizes cross-cultural understanding and international cooperation. Embracing Japan's rich cultural heritage, participants gain invaluable insights into the country's traditions and societal norms, fostering a profound appreciation for diversity and global citizenship. Encouraging exchange and dialogue among its diverse cohort, the YLP creates a global network of like-minded individuals united by their shared aspirations for positive change.
Central to the program's approach is the development of critical thinking and problem-solving skills. Young leaders are equipped to analyze complex challenges and formulate innovative and sustainable solutions. From addressing environmental issues to tackling social inequalities and technological advancements, the YLP empowers participants to become effective advocates for positive change and meaningful contributors to the international community.
- You can also see at Miami University Scholarships in USA 2024
The Young Leaders Program's impact extends far beyond its duration, as its graduates emerge as trailblazers in their respective fields. Armed with the skills, knowledge, and global perspectives gained from the program, YLP alumni actively shape policy-making, drive social initiatives, and lead transformative projects across various sectors worldwide. The YLP's unwavering commitment to empowering youth continues to inspire and produce a new generation of leaders dedicated to creating a brighter and more sustainable future for all.
Don't forget to Join Us on Social Media Networks
Goals and mission of YLP japan:
The YLP aims to produce future national leaders in Asia and the world. Participants gain an in-depth understanding of Japan through their activities and work, Lay the foundation for friendly communication and maximum policy networking. YLP graduates are expected to return to their former government organs and Use their knowledge and experience to become strong leaders.
- You can also see at Oxford Clarendon UK Scholarships 2024
---
Young Leaders Program In Japan Detail:
Funding Type: Fully Funded
Country: Japan
Institute:

National Graduate Institute for Policy Studies
Degree Level: Masters Program
Duration: 1 year
---
Available Programs:
Master of Public Administration

Master of Public Policy
---
Benefits:
Young Leaders Program is an excellent opportunity for international students. Every expense would be covered by the program. The list of all the benefits that would be given to the selected students is given below.
Monthly Allowance of 242,000 yen

Accommodation

Application Fee

Admission Fee

Tuition Fee

Economy Class Air Ticket
---
- You can also see at Hodder Fellowship Program 2024
Eligibility Criteria:
Applicants must have to fulfill the following criteria in order to apply for Young Leaders Program.
Eligible Countries:

Applicants belong to any nationality are eligible to apply. Only eligible countries list is given below:
China

Philippines

Rep. of Korea

Indonesia

Malaysia

Viet Nam

Singapore

Thailand

Brunei

Laos

Myanmar

Kazakhstan

Cambodia

Mongolia

Uzbekistan

Kyrgyz Republic

Turkmenistan

Bangladesh

India

Pakistan

Hungary

Sri Lanka

Australia

Czech Republic

Bulgaria

Slovakia

Poland

Romania

Turkey
Other Requirements:
The YLP is open to all those applicants who are willing to play an active role in the future as national leaders in their home countries.

At least 3 years fo fill time work experience is required in the field in the applicant's home country

Applicant should have a bachelor's degree

Applicant's age should not be more than 40 years of age

Applicant should be proficient in the English Language

Applicant's academic performance should be good
---
Required Documents for Applying:
You have to submit the application with application materials in hard form. A checklist about all the required documents is given below:
An Application form

Recommendation letter from the recommending authority

2 letters of recommendation by your immediate superior

Official transcripts of academic records and

graduation/ degree certificates

official evidence of English ability

passport copy

essays and certificate of health
---
Deadline:
The deadline for application is usually around mid-October. You can also check or visit the Japanese embassy for the exact date of the deadline.
---
How to apply for the Young Leaders Program:
Read the instructions carefully. You have to contact Japanese embassies or recommending authorities located in your country. You can also see the official website to know more about recommending authorities. You can discuss all the application procedures with the Japanese embassies or recommending authorities.
---
ScholarshipsTree Network
wishes you good luck for your future success!
---
,Fully funded scholarship 2019-2020-2021-2022-2023-2024-2025-2026, study in Japan scholarships 2019-2020-2021-2022-2023-2024-2025-2026, mext scholarship 2019-2020-2021-2022-2023-2024-2025-2026, mext scholarship japan 2019-2020-2021-2022-2023-2024-2025-2026, top universities in japan , scholarships for black women, scholarships for college students 2019-2020-2021-2022-2023-2024-2025-2026, opportunities corners, scholarships corners