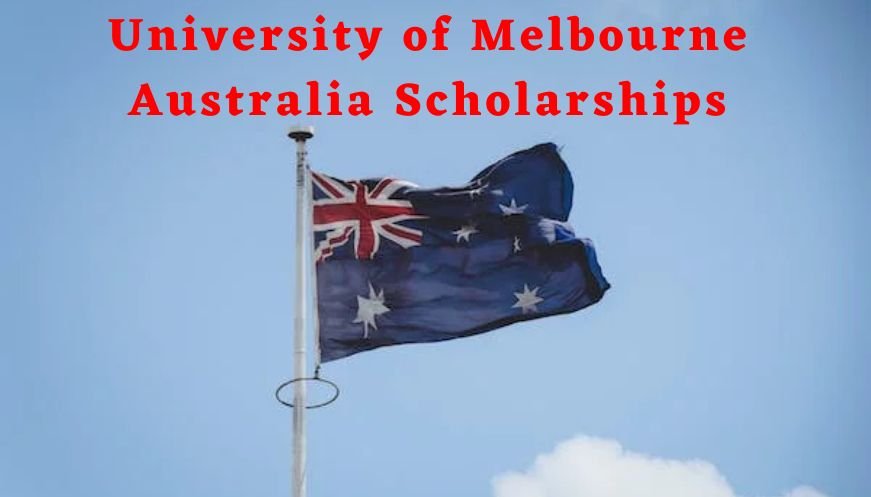 The University of Melbourne Graduate Research Scholarships in Australia present a remarkable opportunity for aspiring scholars and researchers to pursue their academic ambitions in one of the country's premier higher education institutions. These prestigious scholarships are designed to attract exceptional domestic and international candidates, enabling them to engage in advanced studies and contribute to the university's thriving research community.
- You can also see at Simmons University Kotzen Scholarship 2023
Open to students from various academic backgrounds, the University of Melbourne Graduate Research Scholarships cover a wide range of disciplines, including sciences, humanities, engineering, social sciences, and more. The scholarships offer financial support to recipients, alleviating the burden of tuition fees and living expenses, and allowing students to concentrate fully on their studies and research pursuits. Moreover, being part of a diverse and inclusive academic environment, scholarship awardees have the chance to collaborate with world-class researchers, gaining invaluable experience and exposure to a vibrant global network.

One of the unique aspects of the University of Melbourne Graduate Research Scholarships is the emphasis on fostering an environment of research excellence and innovation. Scholars are encouraged to push the boundaries of knowledge in their chosen fields and explore novel ideas that can have a significant impact on society. Additionally, scholars benefit from participating in seminars, workshops, and conferences, allowing them to present their findings, exchange ideas, and enhance their communication and networking skills.
- You can also see at University of Tasmania Australia Scholarships 2024
As a recipient of a University of Melbourne Graduate Research Scholarship, students not only gain access to world-class education and research opportunities but also become part of a close-knit and diverse academic community. By being part of this esteemed institution and thriving city, scholarship recipients can look forward to a fulfilling and transformative experience that will shape their future careers and contribute significantly to their respective fields of study.
Detail of Australia Government Scholarships 2023 at UoM:
Country: Study in Australia
Host University: The University of Melbourne
Financial Aid: Fully Funded
Degree Level: Master in Research and Ph.D. Research Programs
Duration: According to the programs
Eligibility: Domestic and International Students
- You can also see at University of Manitoba Scholarships 2023
Number of Scholarships:
The total number of scholarships available at the University of Melbourne under Australia Government Scholarships 2023 is 600.
---
Don't forget to Join Us on Social Media Networks
Available Majors and Fields:
Australia Government Scholarships at the University of Melbourne is offering Australia Scholarships for the following fields of Research Scholarships. You can also find the complete list of courses HERE
Architecture, building, planning, and design
Architecture

Civil Systems

Construction

Graphic Design

Landscape Architecture

Performance Design

Property

Spatial Systems
Arts, humanities and social sciences
Ancient World Studies

Anthropology

Arabic Studies

Art History

Asian Studies

Chinese Societies

Chinese Studies

Classics

Creative Writing

Criminology

Development Studies

Economics

English Language Studies

English and Theatre Studies

Environmental Studies

European Studies

French Studies

Gender Studies

Geography

German Studies

Hebrew and Jewish Studies

History

Indigenous Studies

Indonesian Studies

Islamic Studies

Italian Studies

Japanese Societies

Japanese Studies

Knowledge and Learning

Korean Studies

Law and Justice

Linguistics and Applied Linguistics

Media and Communications

Medieval and Early Modern Studies

Philosophy

Politics and International Studies

Psychology

Russian Studies

History and Philosophy of Science

Screen and Cultural Studies

Sociology
Business and economics
Accounting

Actuarial Studies

Economics

Finance

Management

Marketing
Education
Arts Education

Assessment and Pedagogy

Equity, Diversity, and Social Change

Leadership and Management

Literacy Education

Mathematics and Science Education

Student Wellbeing

Policy in a Global Context
Engineering
Bioengineering Systems

Chemical Systems

Chemistry

Civil Systems

Computing

Computing and Software Systems

Electrical Systems

Environmental Engineering Systems

Geology

Mechanical Systems

Mechatronics Systems

Spatial Systems
Environment
Agricultural Science

Chemistry

Climate and Weather

Ecology and Evolutionary Biology

Ecosystem Science

Electrical Systems

Environmental Engineering Systems

Environmental Science

Environmental Studies

Geography

Geology

Landscape Architecture

Marine Biology

Plant Science

Plant and Soil Science

Spatial Systems

Urban Planning

Zoology
Health
Psychology
Information technology and computer science
Computational Biology

Computing

Computing and Software Systems

Data Science

Digital Technologies

Mathematics and Statistics

Spatial Systems
Law
Lawyer
Music, visual and performing arts
Art History

Creative Writing

Indigenous Studies

Performance Design

Screen and Cultural Studies
Science
Psychology
Veterinary, agricultural, and food sciences
Agricultural Economics

Agricultural Science

Animal Health and Disease

Animal Science and Management

Biotechnology

Food Science

Human Nutrition

Plant Science

Plant and Soil Science

Production Animal Science

Veterinary Biosciences
---
Eligibility Criteria:
If you want to seek Scholarships in Australia at UoM then you must follow the following terms:
Applicants belonging to any part of the world are eligible to apply

Applicants should apply to enroll for a graduate research degree at the University of Melbourne

Those applicants are also eligible who are currently enrolled in a graduate research degree program at UoM

Applicants should have willing to study in Australia.
---
What are the Benefits of Uo

M Australia Government Scholarships 202

3

?
If you want to apply for Australia Government Scholarship to study in Australia at the University of Melbourne then you must know what are different types of benefits that it is providing. The following list will give you a brief knowledge of its expected benefits:
100% fee remission would be provided

For Masters by Research degree program, the full fee offset will be given for two years

For the doctoral degree program, the full fee offset will be given for four years

Living allowance $34,400 per year for two years Masters by Research degree and for four years of doctoral degree

Paid Sick Leave

Maternity Leave

Parenting Leave

Relocation grants of $2000 and $3000

Overseas Student Health Cover (OSHC)
- You can also see at University of Miami Stamps Scholarships in USA
---
Deadline:
There are different deadlines for every course
---
How to Apply for Australian Government Scholarships in Australia at UoM?
A separate application form to apply for The University of Melbourne Australia Government Scholarships is not required. Applicants have to apply for Master by Research degree and doctoral degree programs after that they will be automatically considered for the scholarship. But it is recommended that you read thoroughly the instructions HERE regarding how to apply.
---
ScholarshipsTree Network
wishes you good luck for your future success!
---
,australia student visa requirements, australia student visa, australian student visa costs, Australian Scholarships, Australian Scholarships, Bachelors scholarships, How to Get an Australian Student Visa, international scholarships