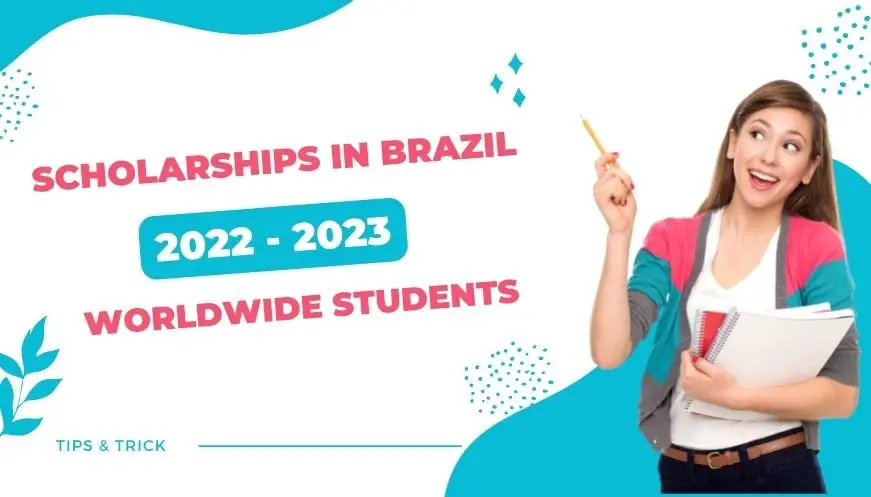 Why not get an education in Brazil when there is a bundle of scholarships in Brazil waiting for you? As a local or international student, you can study in brazil at one of the top universities in your desirous degree level. You can get a partially as well as a Fully Funded Brazil Scholarship because there are no tuition fees in many public institutions in Brazil.
If you get a chance to study in Brazil then you are one of the luckiest students who get Brazil scholarships for international students. There are a number of reasons that can mesmerize international students while they are getting an education in Brazil. Brazil is one of the countries in which there are no tuition fees for public institutions.
Brazilian students and worldwide students can study free of cost. But there are some slight educational expenses that are needed during the stay in Brazil. Do not worry, because you can cover these expenses with scholarships in Brazil.
Brazil is one of the best places to study abroad. Every year Brazilian scholarships are one of the reasons that attract foreign students to complete their further education in Brazil. There are a number of universities in Brazil that are equipped with high-level faculties and research facilities giving high-grade education to students. Below are some of the top Brazilian Scholarships with details and their official website link.
Don't forget to Join Us on Social Media Networks
BRASA Brazil Initiation Brazil Scholarship:
BRASA organization is giving a huge amount in the favour of Brazil Scholarships for international students in the United States. The scholarship is intended for high-scale research and for other language studies. This is mainly a summer program that is totally Free. The organization is not providing scholarships in the US rather it is also giving this summer funded opportunities in Brazil and Canada. The sole aim of this organization is to promote cross-cultural research projects. This step will enhance collaboration between Canadian universities and Brazilian universities. you can find more information HERE
PAEC OAS-GCUB Scholarship in Brazil:
Another organization named the Organization of American States is offering free education opportunities in Brazil. OAS is supporting students since 2011. The duration of the OAS Scholarship in Brazil is 2 to 4 years depending upon the degree program. Selected Top Brazilian universities are eligible under this program. Students of all 34 states of OAS can participate to apply for this Brazilian study opportunity except in Brazil. Students will get a settlement amount of $1,200 under this reward. you can find more information HERE
Brazil Government Scholarship | CAPES Foundation
There are other organizations that are working in Brazil and outside to enhance education quality in Brazil and worldwide, one of them is CAPES. This organization is working with the collaboration of the Ministry of Brazil to students in their graduation study level. CAPES is offering study grants and top universities in Brazil. Almost 22,00 students til now got benefits from CAPES. you can find more information HERE.
Post-doctoral and Ph.D Brazilian Scholarship:
TWAS Scholarships in Brazil:
This is one of the Brazilian scholarships that let students study abroad in Mexico, Brazil, and other countries. Students will be on Ph.D and Post Doctoral study levels under TWAS free education. you can find more information HERE
AUIP (PAEDEx) PhD scholarships
AUIP is offering a study financial aid program for Ph.D scholarships for the duration of 48 months. The good thing is that this support program is for teachers and researchers who do not belong to Brazil in such universities and institutions that collaborated with AUIP. One of the best Brazilian universities that are for international students i.e State University of Sao Paulo and it is also on the eligible list for AUIP. you can find more information HERE
FAPESP International Postdoctoral Fellowships:
Education in Brazil is now easy with FAPESP. Students and researchers can get scholarships at the best universities in Brazil. This is a post-doctoral scholarship. Selected candidates will have the benefits of this study aid for about 24 months. Applicants can apply for FAFESP scholarships in Brazil at any institution offered by any researcher in the Sao Paulo state. you can find more information HERE.
College Scholarships
If you want to study in Brazil or any other country then this is the best chance for you. ISLA and CUSF both universities with collaboration are offering full education programs to talented students. Candidates should have Spanish language skills. This bundle of scholarships has made it easy to get an education in Brazil and other selected parts of the world very easy.
---
Sao Paulo State University Brazilian Scholarships:
If we talk about one of the best universities in Brazil then we cannot neglect Sao Paulo State University. There are 45000 students currently studying on its 23 campuses. Sap Paulo State University has many study support programs specially designed for domestic and worldwide students. Brazil and International students can have undergraduate scholarships and graduate scholarships according to their study level.
If you want to do a master's on master's scholarships then this program will be for a period of 24 months and for students who want to do Ph.D on Ph.D scholarships, the program will continue for 48 months.
Scholarships for developing countries are also available under Student-Graduation Agreement Program (PEC-G) to complete their further education in the best Brazilian universities. UNESP is also on the list to provide a study support program in Latin Merica often called ERASMUS+. European students can also study abroad in Brazil to experience good educational exposure. you can find more information HERE.
---
ScholarshipsTree Network
wishes you good luck for your future success!
---
,scholarships in brazil, education in brazil, study in brazil, universities in brazil, bachelors scholarships, europe scholarships, scholarships in europe, brazilian scholarships