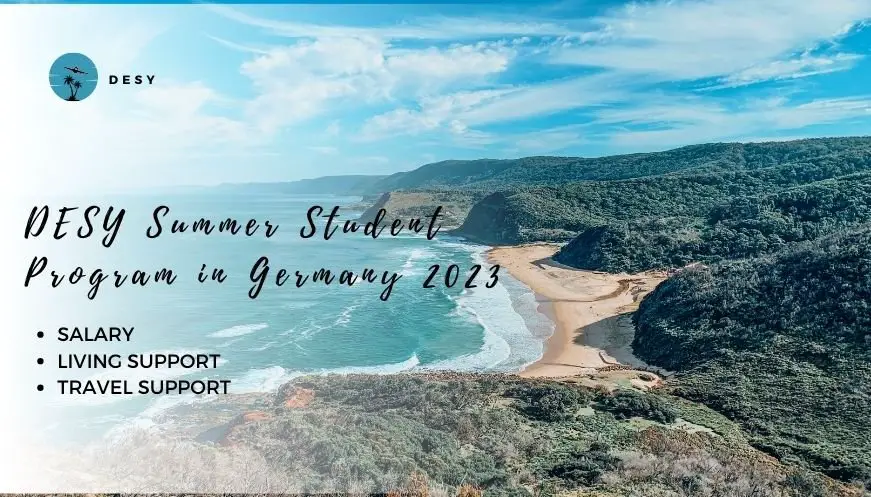 DESY Summer Student Program in Germany 2024 - Step by Step Guide
The DESY Summer Student Program offers a unique research experience under the supervision of DESY researchers. Students have a chance to carry out a seven-week research project this summer in many fields such as physics, astrophysics, computer science, and other related subjects, material science, nanotechnology, etc. Selected students will attend lectures, workshops, and lab visits during the DESY student program. Housing is available for participants in nearby student housing or at DESY facilities. Aside from social activities within the dorms or exploring further afield, you will have access to many on-campus seminars, talks, and events.
- You can also see at Boston University Trustee Scholarship in the USA 2024
Some of these are hosted by DESY which will cover cutting-edge research in the institute. You'll be able to take part in educational and collaborative projects that involve current research being conducted in the laboratories. Additionally, for those who wish to explore the surroundings, some exciting trips can be organized at the available time.
DESY is one of the world's leading accelerator centers. Each summer, DESY offers undergraduate students, who have course subjects in physics or in its related natural science disciplines or computing, the possibility to participate in the different research activities of the laboratory. Selected candidates will join in the day-to-day work of diverse and innovative research groups at the DESY Laboratory in Hamburg or Zeuthen (Berlin).
- You can also see at Illinois Wesleyan USA Scholarships 2024
Don't forget to Join Us on Social Media Networks
What are the short Details of the DESY Student Program 2024?
Funds Coverage: Funded
Location: Germany, Hamburg or Zeuthen (Berlin)
Offered By: DESY(Deutsches Elektronen-Synchrotron)
Program Dates: 16 July to 5 September 2024

What are the available fields at DESY Germany?
DESY will address fundamental and applied questions in the science-related fields of
Physics

Biology

Crystallography

Chemistry

Computing

Materials and geological sciences

Natural Sciences

Engineering
What are the benefits of the DESY Summer Student Program?
DESY Summer Student Program 2024 is a Funded Summer School in Germany for International Students. It will cover the following expenses.
A subsistence allowance of 1200 Euro/month

Partial Travel expenses

Accommodation in DESY Hotel at lower prices
Additionally, when you have some free time there are many places worth exploring in the city. Hamburg has a rich culture that can be experienced through its many museums, galleries, and theatres. Try not to miss out on interesting sites such as Historic Speicherstadt with its beautiful warehouses!
- You can also see at University of Hawaii Scholarship-Graduate Degree Fellowship
What are the activities in DESY Summer Program?
If you want to know more about the activities that will engage DESY Summer School Students, you can scroll below and take a look at the list at DESY Activities
Program A: Photon Science
A1. Solid-state physics and nanoscience

A2. Molecular sciences

A3. Soft-matter sciences

A4. Development of experimental techniques

A5. Lasers and optics

A6. Theory and computing
Program B: Research in Elementary Particle Experiments
B1. Physics analysis (software-oriented)

B2. Data processing (software-oriented)

B3. Development of experimental equipment (hardware-oriented)

B4. Research on Accelerators

B5. Theory of Elementary Particles

B6. Computing
Program C: Research in Astroparticle Physics
C1. Astroparticle physics analysis and observations:

C2. Instrumentation for Astroparticle Physics:

C3. Theory of Astroparticle Physics
What is the duration of the DESY Summer Program in Germany?
Basically, the DESY Summer program will go on for about 7 weeks and the announced dates are from 16 July to 5 September 2024.
What are the Eligibility Criteria to apply for DESY Summer Program?
Applicants must have completed a least 3 years of full-time bachelor's studies at the university level. This criterion should be completed by the summer of 2024

Applicants should be about to complete their bachelor's degree

Applicants with a bachelor's degree and are now completing their master's degree can also apply for this summer program

Applicants with a completed master's degree cannot apply

Applicants must not have availed of the DESY summer program opportunity before

Applicants should have good knowledge of English language skills
What are the required documents to apply for DESY Summer Program 2024?
While applying to this summer program, few documents are required in OPDF format (only the PDF format is accepted).
Updated CV (curriculum vitae), the CV must be in tabular form only

University grade certificates (e.g. bachelor certificate, credit points, etc.)

Two reference letters:
Please note that applicants who belong to Non-EU and Non-EEA Countries are requested to upload in addition a copy of their valid passport in the English language
What is the last date to apply for DESY Summer Student Program 2024?
The last date to apply for DESY Summer Program 2024 is 31 January 2024.
How to Apply for DESY Summer Program 2024?
Applicants should apply online with all of their required documents. Please read carefully the conditions before applying. if you have any queries, you can contact them at summie-org@desy.de. Besides this, you can see their FAQ's section
---
ScholarshipsTree Network
wishes you good luck for your future success!
---
,bachelors scholarships, scholarships in germany, Scholarships in Europe, scholarships for undergradaute students, scholarships for developing countries, schoolarships for international students, bachelors scholarships for international students, international scholarships