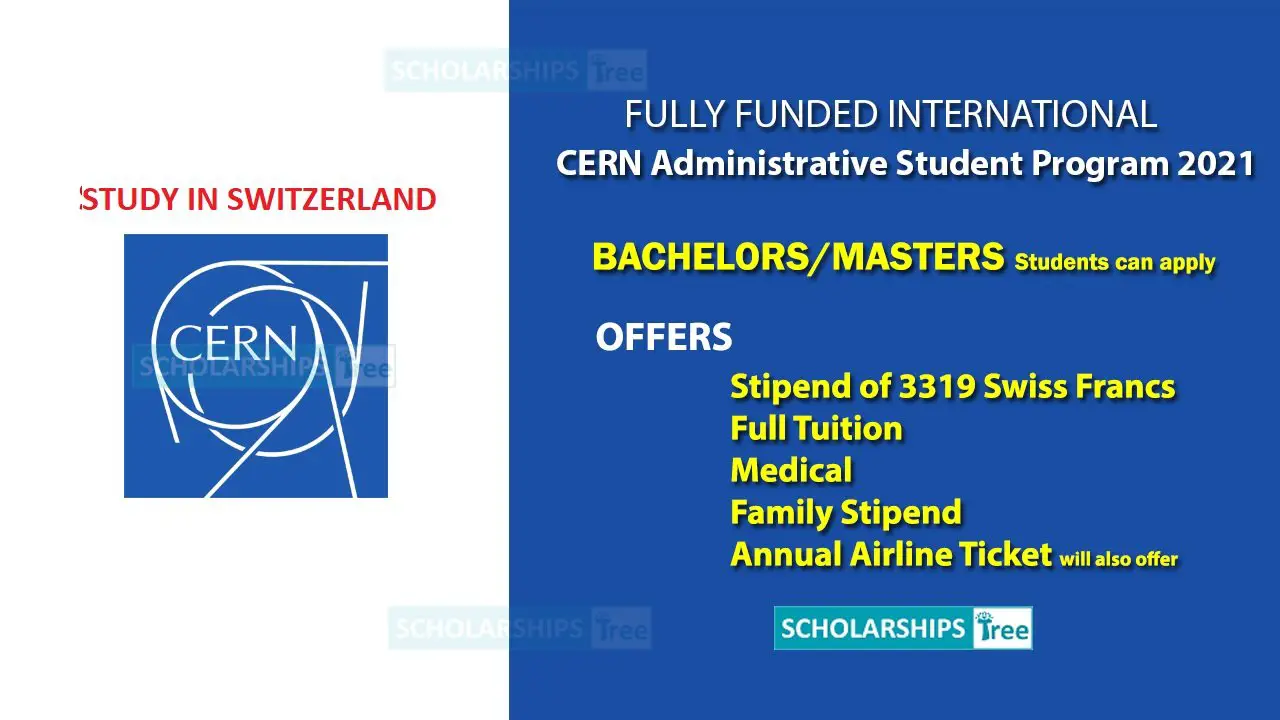 Pack your bags to stay in Switzerland because the well-reputed organization known as CERN is providing CERN Administrative Student Program 2021 for the international students so that they can work and learn, groom their capabilities under CERN while staying at Switzerland for the period of 2 to 12 months.
CERN Administrative Student Program 2021 - Fully Funded
CERN is the European Organization for the Nuclear Research it is also one of the world's largest and very respected centers for the scientific research. At CERN, Their work helps to disclose that what the universe is usually made of and also how it works. They are doing this by providing a very unique range of particle accelerator facilities to researchers for the reason to advance the boundaries of human knowledge.
There is another scholarships in Australia for international students
CERN, which uses the world's largest and most intelligent scientific instrument, studies the main components of matter, the first particles to form near the speed of light. This process gives physicists an idea of how particles interact, and provides an understanding of the laws of nature.
CERN Administrative Student Program 2021 is providing a 2 to 12 months exchange program for the students who are studying in their undergraduates, bachelors or masters studies and at least completed 18 months of study. The program will be held in Geneva, Switzerland. It is fully funded exchange program even they are offering traveling allowances.
---
CERN Administrative Student Program 2021 Detail:
City: Geneva
Country: Switzerland
Supported By: CERN
Type: Fully Funded
Duration: 2 to 12 months
You can follow us on Instagram and can ask any question related to this opportunity
---
Benefits CERN Administrative Student Program:
Assignation of a contract between CERN and the selected participant from 2 to 12 months

A monthly stipend of 3319 Swiss Francs would be given

A travel allowance.

An additional amount of would also be given if you are married or have children with you

Complementary health insurance

There would also available 2 to 5 days paid leave every month
Japan is offering fully funded Scholarships to study in Japan under MEXT scholarships 2021
Don't forget to Join Us on Social Media Networks
Available Majors and Fields:
Selected applicants would be able to start their career at CERN Administrative Student Program in any of the following fields.
Translation

Human resources

advanced secretarial work

Business administration

Logistics

Law

Finance

Accounting

Library and information science

Engineering management

Science communication

Education

Audiovisual

Communication and public relations

Psychology

Audit
---
Eligibility Criteria:
Following is given the eligibility points, you must have to fulfill the points to apply.
Eligible Countries: Applicant should belong to that country which should be member of CERN, also there are a lot of other countries that are also eligible for applying, You can check whether you country is in the list or not, Check complete list HERE
Other Requirements:
Applicants should have completed

at least 18 months of undergraduate studies (Bachelor or Master's). Degree should be in an administrative field

Applicants will be registered as full time student while staying at Switzerland for 2 to 12 months

Applicants should also have a good understand and knowledge of English language or French language

Applicants should be enough motivated to work at CERN and to stay at Switzerland
---
Tips for applying at CERN:
Here are a few tips to start your application:
Applicant should be enough specific as possible in the application fields "Education" and "Experience".

Applicants should prepare advance because after starting online application there would be less / limited time to submit the application.

If the applicant is applying at more than one job then he / she has to upload the documents for each application you submit
---
Required Documents for Applying at CERN:
Remember applicants have to create PDF file format of every document with cleary label name like Motivation letter, CV and Academic transcript etc. You will need following documents for applying.
A CV.

Applicants must have to provide most recent academic transcript's copy

A reference letter from your University Professor is mandatory, CERN can also ask your referee to upload the reference letter
---
Deadline:
The last date to apply for CERN Administrative Student Program 2021 is 19 October, 2020
---
How to apply for CERN Administrative Student Program 2021?
You have to apply online. But read guidelines before applying. Be careful while submitting your application once you complete or submit the application then there is no way to edit. You cannot change your detail in the application later. Prepare all of your applications before applying. You also have to upload those documents to the online platform for applying.
---
ScholarshipsTree Network
wishes you good luck for your future success!
---
,Fully funded scholarship 2019-2020-2021-2022-2023-2024-2025-2026, study in Switzerland 2019-2020-2021-2022-2023-2024-2025-2026, scholarships for college students 2019-2020-2021-2022-2023-2024-2025-2026, scholarships for high school students 2019-2020-2021-2022-2023-2024-2025-2026, scholarships for african students 2019-2020-2021-2022-2023-2024-2025-2026, master and phd scholarships 2019-2020-2021-2022-2023-2024-2025-2026, undergraduate and graduate scholarships 2019-2020-2021-2022-2023-2024-2025-2026, free study, free meal, free accommodation, free airfare